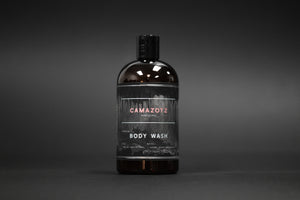 Grim Grease Pomade
Camazotz Body Wash
Regular price
$ 18.00
$ 0.00
Immerse yourself in the powerful and enchanting realm of the wild with Camazotz "Murcielago" (Bat) Fragranced Men's Body Wash. Designed specifically to meet the grooming needs of the modern man, this body wash does more than just cleanse.

Evoking the rich, dark, and fascinating world of caves inhabited by the elusive bat, the fragrance is striking yet sophisticated, offering a distinctive olfactory experience. The scent beautifully combines earthy tones with subtle hints of fruits and vegetation, providing an air of mystery and adventure each time you lather.

Our Body wash not only invigorates your senses with its unique bat-inspired fragrance but also offers a luxurious bath experience. The thoughtfully crafted formula features environmentally-friendly ingredients that work wonders on men's skin. A rich infusion of aloe vera and chamomile soothes and nourishes, while green tea extracts pack an antioxidant punch.

Appreciate a long-lasting fragrance that lingers post-shower, leaving your skin feeling fresh, rejuvenated, and lightly scented the entire day. Our Bat Fragrance Body wash offers an exceptional balance of eccentricity and function.

Experience the seductive allure of the darkness and the esoteric with Camazotz "Murcielago" (Bat) Fragranced Men's Body Wash. This product is an adventure, an experience, and a sublime treat for your skin. Dive into the extraordinary and make every shower an event.
Formula: BodyWash
Size: 16oz-453ml
.

Scent: Murcielago 
Notes: 
Soil. Minerals. Banana. Tropical Fruits. Resin. Leather.
Fig Fruit. Green Notes. 
.
Ingredients: Water. Sodium laureth sulfate. Sodium lauryl sulfate. Cocamide mea. Cocamidopropyl betaine. Methylparaben. Methylchloroisothiazolinone. Methylisothiazolinone. Citric acid. Sodium chloride. Love.
---
Share this Product
---
More from this collection